Dabar, ko gero, aš sulaužysiu savo pačios pasižadėjimą nesiskųsti mokslais, o tiksliau studijomis. Tokį pasižadėjimą sau aš daviau po to laiko, kai nesėkmingai įstojau ir nutraukiau studijas kolegijoje ir įstojau į Romerį. Nors ne, žinot, šiame įraše aš ir nesiskundžiu, tiesiog tai šioks toks bambėjimas retkarčiais, kuris jau yra neatsiejama mano gyvenimo dalis. Tai tarsi savotiška kritika tiek sau, tiek kitiems. Dėl poelgių, sistemos, įvykių, vykstančių procesų ir t.t. Sakyčiau, tas bambėjimas nėra tiesioginis zyzimas ant viso svieto, tai veikiau pamąstymai, analizė to, kas vyksta.
Jau kurį laiką man kirbėjo mintis aprašyti praėjusius studijų metus ir su tuo susijusius įvykius pabrėžiant tai, kad kartais geriau eiti numintais keliais nei trypti savąjį. Netrukus suprasite kodėl.
Pradėkime nuo to, kad man teko pakeisti bakalauro baigiamojo darbo temą ir vadovą, nes supratau, kad tiek su tema, tiek su vadove nesusigyvensim. Rinktis, kaip suprantate, nelabai jau buvo iš ko, nes lengviausios/geriausios temos išrinktos, o liko, tai kas liko… Griebiau iš tų likučių daugmaž suprantamą ir patrauklią. Pasitarimai, prašymas dėl temos keitimo, nu okey, važiuojam… Nebūčiau nė pagalvojus, kad blaivia galva (nors tokia ji pas mane visada) pasirašysiu dalyvauti dėstytojos pasiūlytuose studentų moksliniuose tyrimuose semestrų metu. Mačiau prieš tai laiškus su pasiūlymu iš praeitos bakalauro darbo vadovės, bet vien užmetus akį supratau, kad tai ne man, o ir dalyvauja juose pagrinde magistrantai. Bet ką jūs galvojate… Po to, kai gavau pasiūlymą asmeniškai ilgai negalvojus aš sutikau sudalyvauti tyrimuose. Tąkart aš dar nenutuokiau, kiek pragaro ratų man teks praeiti. Mokslinis straipsnis per dvi dienas neturint jokio suvokimo, kaip jį rašyti ir kokį empirinį tyrimą daryti. Dalyvavimas studentų mokslinėje konferencijoje , neturint dar parašyto straipsnio, bet apsimetant, jog jis yra, o temą aš gerai įkandus. Ko ne aktorė? 🙂 Ir viskas tai vyko pavasarį, nuostabų gegužės mėnesį, kai aš užvis labiau norėjau ištrūkti į lauką, nusimesti visą darbų naštą nuo pečių ir tiesiog mėgautis akimirka. Tačiau ne viskas buvo taip, kaip norėjau, ir aš kibau į darbus visu pajėgumu.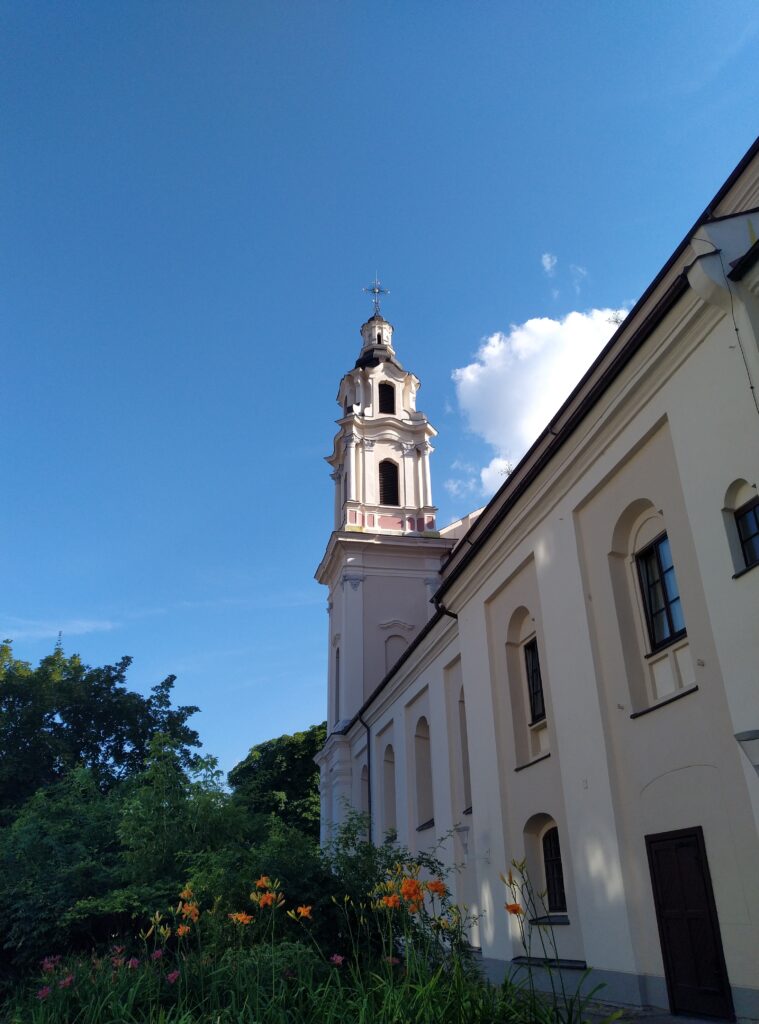 Vasara ėjo į pabaiga. Vis dažniau mane aplankydavo mintys ir svarstymai, kur atliksiu praktiką. Kaip žinia, mano tyrimų tema susijusi su Vilniaus paveldu, kartą minutei prisėdus ant suoliuko, esančio prie Kultūros paveldo departamento, atsipūsti, nužiūrėjau pastatą įdėmiau. Pamenu tąkart prie to pastato žydėjo lelijos ir virš galvos bolavo vasariška dangaus žydrynė. Pasvarsčiusi galimybes, pasidomėjusi departamento veikla, kreipiausi dėl praktikos dar rugpjūtį. Rudenį mane priėmė be didesnių rūpesčių. Prisipažinsiu, turėjau nemenkų ambicijų, maniau, kad mane aktyviai įtrauks į veiklą, įgysiu daug naujų žinių, kurios pravers ateity, gausiu naudingos informacijos tyrimams, bet kur tau ten… Žinot tą atvejį, kai slampioji pakampėmis it skuduru gavęs šunėkas ir žvelgi vilties kupinomis akimis gal tau duos kokį skanesnį kąsnelį? Taigi, aš buvau ta įkyri praktikantė, kuri prašė užduočių, dėmesio, sutikimo gauti interviu ir kažkokių pačiai dar nežinomų naujų profesinių įgūdžių suteikiančios veiklos. Tačiau man ne kartą teko išeiti nieko nepešus ir aš netgi nelabai supratau, kas vyko visus šiuos tris mėnesius. Nesakau, kad departamente dirbantys asmenys blogi ar panašiai, ne, jie tiesiog abejingi. Tiesiog nenusiteikę ir nematantys prasmės skirti praktikantams daugiau dėmesio, nes vis vien už tai nieko nemoka. Kiek apmaudu, kad valstybinėse įstaigose dirbantiems asmenis stinga motyvacijoms kiek kitokio pobūdžio veikloms. Dėl to, pirmiausia, turėtų susidomėti įstaigų vadovybė ir dar viršesnes pareigas užimantys asmenis. Antraip, mes iš anksto jaunimo tarpe formuojame atitinkama nuomone apie valstybines įstaigas. Jaunimo tai nepaskatins ne tik, kad atlikti praktiką, bet ir rinktis darbą tolimesnėje ateityje. Nepaisant viso to, aš labai dėkinga tiems darbuotojams iš Metodikos ir paveldosaugos bei Tarptautinių ryšių ir sklaidos skyrių, kurie visgi atrado laiko ir ūpo mano užduotims ir mano smalsavimui (o aš sugebu įgristi savo kalbomis). Praktika mane įkvėpė parašyti eilėraštį (žr. eilėraštis). O jums, skaitytojai, ar teko atlikti praktiką studijų laikais valstybinėje įstaigoje ar organizacijoje? Kaip sekėsi Jums? Labai norėčiau paskaityti jūsų komentarus po įrašu.
Neveikia prodiusavimo dėstytojo mano kerai,
Nusispjaut ir taip gerai, betgi nemačiau tokių
Pažymių nuo psichologijos dalyko laikų.
Man sako, kad Dievą į medį veju, mane tokie
Keisti jausmai aplanko, Vilnių aš ant delno dedu,
Nes pati jame lyg narvelyje vos telpu –
Many egzistencija suspausta.
Keisto patirtys irgi viską temdo, aš lyg ne ten ir ne
Tuo metu parsirandu.
Toks juokingas jaunas paveldosaugininkas
Prieš jaunas panas per daug staipos, jis
Galėtų kaip Statkevičius apie save šešias
Valandas prakalbėti, tuomet laikytume tai interviu.
Ir taip. Jau minėtieji moksliniai tyrimai semestrų metų. Tiesa pasakius, aš galvojau, kad jiems galo ir krašto nebus. Niekad nebūčiau pagalvojus, kad gali taip būti sunku susirasti interviu dalyvius tyrimui. Žinoma, ir kandidatų nebuvo daug, nes, savaime suprantama, kuo sritis siauresnė, tuo specialistų šiai sričiai mažiau, o kūrybiška vietokūra visgi tokia. Dauguma tiesiog ignoruodavo mano laiškus, žinutes, kiti atsisakydavo, treti atrašydavo, kai nesitikėdavai gauti sutikimo. Galiausiai pirmąjį savo interviu gavau spalio pabaigoje, antrąjį lapkričio pradžioje, o po to vėl užlūžau… Vėl tylu, ramu, o aš laukti negaliu. Pasitelkiant ryšius, kai ką teko priremti, tiesiogine to žodžio prasme, prie sienos ir tokiu būdu išgauti interviu reikalinga informacija. Atsakau – studentų moksliniai tyrimai kartais legalus tardymas. O kur dar nauji moksliniai straipsniai, nauja mokslinė konferencija (jau ne studentiška), recenzentų pastabos ir taisymai… Pff. Atrodo, niekis, bet kai pradedi daryti, tai pajauti visą reikalo gardumą. 🙂 Ir kodėl man nesieina takeliu ramiai taip, kaip kitiems, o būtinai reikia paklaidžioti šunkeliais, manant, kad mano išmintas takas bus geresnis? Pati sau statau grėblius ir ant jų minu. Tikrai, ne kitaip. Čia gal skorpijoniška mazohistiška natūra daro įtaką, kaip manot? Arba labiau tikėtina, kad priežastis tame slypi kur kas giliau…
Ir taip. Istorija su CUP'u. Nors man jis niekad nebuvo patraukliausias prekybos centras asortimento atžvilgiu, bet lokacijos ir laiko taupymo sumetimais, aš jame apsilankydavau gan dažnai, perkant kokias smulkmes ar tiesiog nubėgant iki bankomato. Pamenu, kai vieną saulėtą gruodžio dieną, visai prieš šventes, dėl kai ko vėl užsukau į jį. Prieš išeinant iš pagrindinio įėjimo, į mane kreipėsi moteriškas balsas, prašantis pagalbos. Tiesa pasakius, iš pradžių nelabai susigrėbiau kokio pobūdžio pagalbos iš manęs norima. Moteris, gan tamsaus gymio, prisistatė esanti atvykėle iš Baltarusijos, istorija apie ištikusį likimą pasirodė gan įtikimą, o ir prašė ji nebūtinai pinigų, o ir būtiniausių prekių kūdikiui. Viduj man kilo abejonės, turbūt pirmą kartą gyvenime pasijaučiau taip mulkinama. Tačiau dėl man pačiai neaiškių priežasčių, nepajėgiau jai atsakyti ,,ne" ir pateikiau dešimties eurų kupiūrą. Žinoma, ji man labai dėkojo, maloniai kalbėjo, bet aš jaučiausi niekaip. Ne todėl, kad man būtų gaila tų dešimties eurų, žmonėms, kurie mano dėmesio ir gerumo nevertino dar ne tiek buvau išleidus, tačiau man nedavė ramybės intuicija, kad pasielgiau priešingai nei reikėjo. Žinot, nesu iš tų, kurie dalina eurus į kairę ir į dešinę visiems to prašantiems, o ypač lauke. Jei paaukoju kelis eurus, tai į fondus, kuriais pasitikiu. Vėlgi nesu milijonierė, kuri galėtų skirti apvalesnes sumas. Betgi minėtoji situacija mane suglumino. Tądien dar užsukau į bažnyčia pakeliui ir man vis vien jautėsi tarsi akmuo ant krūtinės padėtas.
Dabar VCUP man asocijuojasi ne su pačiomis geriausiomis patirtimis. Man keista eiti pro KPD pastatą, į kurį anksčiau praktiškai nekreipdavau dėmesio, nebenoriu sutikti sektantų, kurie prie manęs ten įkyriai prilįsdavo (taip, taip, buvo ir tokių atvejų), nebenoriu jaustis iškrėtus kvailystę, nepaklausius savo vidinio balso, nebenoriu būti nužiūrima kaip galimas finansų šaltinis, nors tikrai su savim nesinešioju lobių, nebenoriu stumdytis tarp naglų, neišauklėtų malalietkų, kurie vaikšto visa banda. Bet ką gi… Kartais ko labiausiai bandai išvengti, tas prieš nosį ir išdygsta.
Tai tokie tie mano žiemos potyriai, kuriais norėjau pasidalinti su blogo skaitytojais.